Near Edge Ribon
Suitable for inline coding and industrial barcode printers.
Excellent performance at high print speeds .
Prints on a wide range of paper and film stocks .
Wax/Resin and Resin formula provides good resistance to abrasion.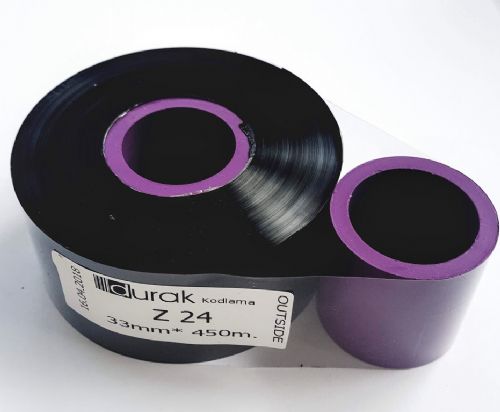 Z 24 Wax /Resin :
Suitable for flexible packaging and labels.
Best product for competitive price and great solution.
Z 24 Near edge Wax/Resin Ribbon offers excellent image sensitivity,combined with mid-range image durability and heat resistance.
Printing applications include date ,batch numbers,small and large text,barcodes and graphics at speeds of up to 24 inches per second.




G 24+ Wax/Resin :

Suitable for flexible packaging and labels.
Best product when you need a ribbon for high speed printings.
This product is offering very good printing density and resistance on a wide range of substrates.
Specifically developed for in-line packaging applications including Markem SmartDate, Videojet DataFlex, Domino,
Norwood Jaguar, and other digital printers/coders.
Excellent print quality at all speeds up to 40 IPS






DK 25 Resin :

DK 25 is designed for near edge print head types.
This ribbon provides outstanding print quality on a variety of films and excellent resistance to abrasion.
Excellent print quality at all speeds up to 24 IPS.

Z 24 , G24+ and DK25 ribbons are for Near Edge printers
( Markem®, Videojet ®, Domino®, Jaguar®, Linx®, Savema ®, Allen® , Toshiba®, Avery ®, ...)